Members
Thank You For Support Through Member Dues...
2018 Members
in bold
Dylan Acres
Steve Ayola
Zack Baker
Jennifer Bavarskas
Art Belsky
Frederick Brigham
Jose Bustillos
Ann Cavanaugh
Julia Clark
Tom Cooley
Brian Ellis
Cliff Foster
Justin Fowler
Lee Fuchsmann
Lisa Gabriel
Joi Garlington
Sophia Garrison
Sherry Grimes
Joelle Harris
Paul Harris
Christina Herzod
Brooke Hockett
Andy Hollenbeak
Jon Hurley
Alexander Ibarra
Sean Johnson
Maddie Juhl
Gary Kout
Lynn Lamoree
Tom Lamoree
Kurt Liedtke
Sarah Logan
Art Martin
Katie McGirl
Rebecca McGirl
Jason McMurry
Cathy McNeely
Lainee Meis
Ryan Niemi
Tony Nunes
Lori Nussbaum
Sally Palcovich
David Paoli
Ben Piper
Lawrence Powers
Kegan Powless
David Reed
Matt Roemer
Denise Ross
Kayla Sha
David Shute
Robin Smith
Holly Stork
Wayne Sweat
George Tyson
Pela Via
David West
Jesse Widener
Aaron Wood
Officers and Board Members
Jesse Widener
Executive Director/Board Member
Jesse Widener has a wide range of experience in the arts including architecture, music composition, photography, software development, drawing and writing. He brings his passion and experience to filmmaking, having had several films show at the Klamath Independent Film Festival, as well as the Portland International Film Festival and Ashland Independent Film Festival. Jesse also serves on the board of Klamath's official tourism agency Discover Klamath.
Brian Ellis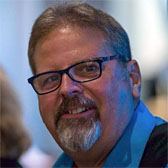 Board Chair
Armed with degrees in both writing and geography...yes, geography...Brian Ellis leapt into the world of film and television, having been involved in successful, low-budget independent features such as "The Invoking", a financial success spawning two sequels, and two 2017 films: "Hunting Grounds" and "Ayla". Brian currently has five television shows in early development, as both a writer and a producer, recently worked as Associate Producer on dramatic thriller "Flower in the Dirt", and is currently in process to produce films shot in the Klamath Basin.
Robin Smith
Board Vice Chair/Social Media Admin
Robin Smith has lived throughout the Western US, has worked in administration for social service programs, including her current daytime employer, and is currently acquiring a degree in Social Services. Robin enjoys online distributed media and is looking to fill her free time contributing to our community arts & culture through Klamath Film, and exploring various aspects of the craft. Robin recently completed work on an independent feature filmed in Klamath.
Joelle Harris
Secretary/Board Member
Joelle Harris is an Architect at ZCS Engineering and Architecture and has been practicing for 20 years. She has worked on a wide range of building types from multi-family housing to significant alterations and seismic rehabilitation of historic landmark buildings. She is currently working on growing the architectural design division at ZCS and supports projects throughout Oregon. Joelle recently moved to Klamath Falls with her husband Paul, and they are enjoying the seasons and exploring outdoors with their two dogs.
Ann Cavanaugh
Treasurer/Board Member
Ann Cavanaugh is co-owner of SmithBates printing, one of the oldest printing companies in the state of Oregon. A long-time resident of Klamath Falls, Ann has been instrumental in the startup and continued success of many local nonprofits geared toward the improvement of our economy, community, and the pride and enjoyment of living in the Klamath Basin, some of which include our official tourism agency Discover Klamath, as well as the Klamath County Economic Development Association.
Paul Harris
Technical Director/Board Member
Paul Harris has been a stagehand for over 30 years. As a member of IATSE Local 16 in San Francisco, Paul has worked on many feature films, broadway shows, concerts, and other events. Paul now lives in Klamath Falls and enjoys working as a stagehand at the Ross Ragland Theater, spending time with his wife, and reaching out to get involved with and support the arts and community.
Lori Nussbaum
Board Member
Lori Nussbaum creates, enjoys, and supports local art and culture such as the Klamath Independent Film Festival, Arts on the Flyway, and theater performances. In August 2017, Lori had the opportunity to be a spotlight operator for the Mary Poppins performances at the Ross Ragland. Other interests include board games, puzzles, and learning something new each day.
David West
Board Member
David West lives in Klamath Falls with his wife Kathryn and their two young children, Scarlett and Kirk. David is the writer, director, cinematographer, and editor of ten narrative short films, half a dozen documentary shorts, countless commercials and corporate videos, and one feature film. He's currently developing his next feature film, "In the Shadow of the Valley"; a dark thriller set in rural Oregon.
Dylan Acres
Board Member
Dylan Acres recently moved from England to Klamath Falls with his wife, a jet engine mechanic now stationed at Kingsley Field. While in England, Dylan caught the film bug as an extra in a recent screen adaptation of MacBeth, starring Michael Fassbender, and combined with his interest in Land Rovers (of which he has 5 in varying styles/vintage) he aims to connect Land Rovers with new owners, and/or for film use through his budding company Basin Land Rovers.