"This is not only a recognition of the history of film in Klamath Falls, it will also be a beacon for our future."
-Kurt Liedtke, executive director of Klamath Film.
Saturday, Feb. 27, 2021 – during the film's cast reunion
An historic marker stands proudly outside of The Daily Bagel in downtown Klamath Falls following a day of celebration in recognition of the film "Phoenix, Oregon" and the film heritage of Klamath County.
Multiple events were coordinated on Saturday, Feb. 27, 2021 for the official addition of the latest historic marker on the Oregon Film Trail – a network of recognizable signage placed in many iconic filming locations across the state, stitching together film history, communities, and celebrating Oregon's contribution to filmmaking since 1904.
The sign placed in Klamath Falls is the 33rd historic marker designated in the State of Oregon, but only the third in Southern Oregon – two were placed in Ashland in 2020. Additionally, the program has created a large exhibit and mural at the Portland International Airport honoring Oregon's film legacy.
The Oregon Film Trail marker identifies the making of the film "Phoenix, Oregon" as well as other notable films at least partially made in Klamath County. The markers serve as an economic driver and recognition of cultural heritage and are actively promoted as tourist stops for film fans. The Oregon Film Trail markers are intended to strengthen the correlation between the film/TV industry and Oregon communities for its economic and cultural impact.
RISE LIKE A PHOENIX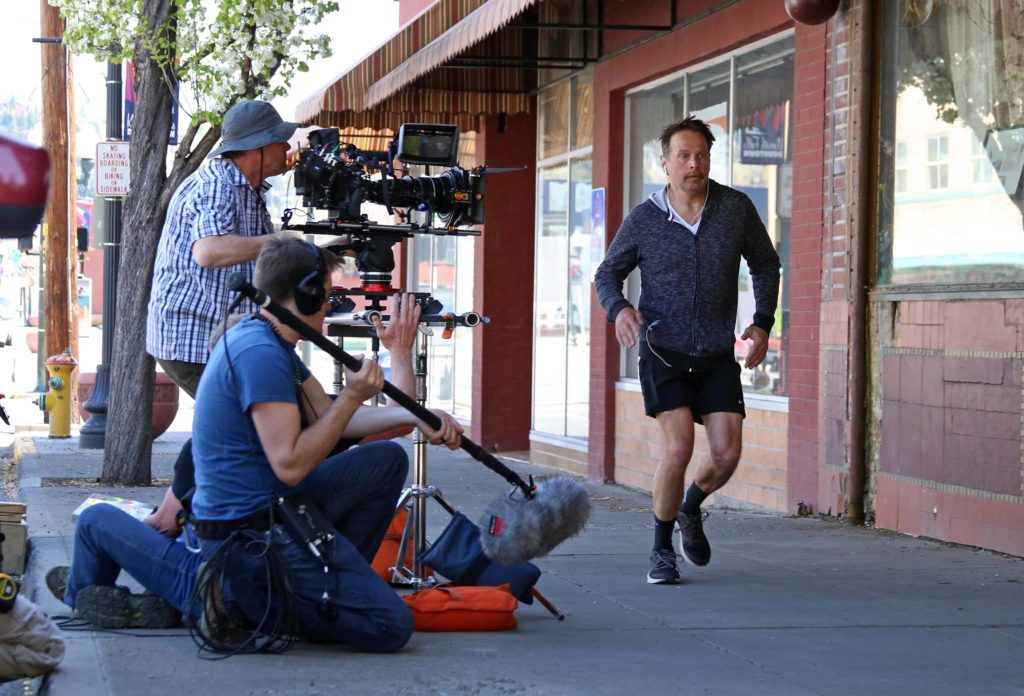 A small, independent production by Ashland-based Joma Films, "Phoenix, Oregon" was filmed in Klamath Falls in 2018 after the director met several residents interested in producing a film while attending the 2016 Klamath Independent Film Festival. The film included many local Klamath Falls citizens serving as film crew and extras. It was shot on location at multiple local businesses including The Daily Bagel, Italianna's Ristorante, Silver Tip Mobile Home Park, Hanscam's Bowling Alley, Rodeo's Pizzeria, and a warehouse owned by Fireserve that was repurposed as a soundstage.
Making its world premiere in 2019, including a screening at the 2019 Klamath Independent Film Festival, Joma Films took the film on the road, traveling nationwide in a RV to showcase "Phoenix, Oregon" at festivals and special event screenings. This effort eventually led to a national theatrical distribution deal for its release in March 2020.
In an odd twist of timing, the week of its release aligned with a national shutdown of theaters due to the spreading COVID-19 pandemic, however a simultaneous online video-on-demand release of the film resulted in "Phoenix, Oregon" becoming the #1 film in America in Domestic Box Office. As a result of the theater shutdown, the film also holds the somewhat dubious honor of being the all-time lowest grossing #1 move in U.S. Domestic Box Office in history
The film stars James Le Gros, Jesse Borrego, Lisa Edelstein, Diedrich Bader, Kevin Corrigan, Reynaldo Gallegos and Luis Rodriguez. The film was directed by Gary Lundgren. It follows two friends who quit their jobs following a mid-life crisis to revive a shuttered bowling alley and sell specialty pizzas.
The Joma Films team was recently honored at the OMPA Awards in January 2021 in recognition of their 2020 charity work raising thousands of dollars through virtual screenings of "Phoenix, Oregon" to support struggling Oregon restaurants, theaters, and wildfire victims.
EARNING ITS MARK
In late 2020 Klamath Film began an effort to have an Oregon Film Trail marker designated in honor of "Phoenix, Oregon" – the 11th overall feature film to be at least partially filmed in Klamath County. The Oregon Film Trail – conceived and organized by the Oregon Made Creative Foundation – has invited numerous Oregon communities to partner on the installation of Trail markers in all seven regions of the state.
Meeting directly with multiple community organizations throughout the fall, Klamath Film rallied letters of support and financial donations to cover the cost of the marker's construction and confirm sufficient community support for the film's recognition. Pledged support in financial donations or letters was received from Klamath Falls City Council, Klamath County Commissioners, Soroptimist International of Klamath, Klamath Falls Downtown Association (KFDA), Klamath Film and Discover Klamath, along with private citizen donations. This marker was also paid for in part by a grant from Travel Oregon.
Based on the fundraising campaign and community support, Klamath Falls was approved for the newest Oregon Film Trail marker in December 2020 by Oregon Film and the OregonMade Creative Foundation.
"'Phoenix, Oregon' is a great example of a locally produced film, that has national notoriety, that showcases our talent," said Tim Williams, executive director of Oregon Film. "It is the fourth Southern Oregon produced feature film from Ashland husband-and-wife filmmaking team Annie and Gary Lundgren. Although its title helps celebrate the small town of Phoenix, Ore., the choice of shooting location brought spending, jobs and visibility to Klamath Falls, and it continues Oregon's long history of storytelling (through film). All of these pieces make it a valuable film to Oregon and the perfect choice for recognition on the Film Trail."
PHOENIX CELEBRATION
To honor the film's place in history, Klamath Film coordinated a series of events – all livestreamed and with a limited in-person audience. Outside of The Daily Bagel (636 Main St.) numerous guest speakers presented their thoughts on the importance of the historic marker. Klamath Falls Mayor Carol Westfall read a formal proclamation declaring Feb. 27, 2021 "Oregon Film Trail Marker Designation Day." Klamath Falls Downtown Association (KFDA) Executive Director Darin Rutledge also shared his thoughts.
"We're proud to say that film was made here in Klamath Falls," said Rutledge. "One of downtown's greatest assets in my opinion is our historic character – all these beautiful historic buildings and just that feeling about being part of the past. We hear stories of the past, one of the things I don't hear is thinking about stories that are happening right now. Klamath Film and Oregon Film, thank you for giving us a way to document that story, and a way to share it for generations to come."
"I think today signifies an opportunity for us to recognize this spot, and to move forward with what I am convinced will be a happy ending for Klamath County," said Klamath County Commissioner Kelley Minty-Morris.
Barry Hanscam, owner of Hanscam's Bowling Alley where much of the film was shot in 2018, was also given an opportunity to speak.
"I said whatever it takes to get this movie made here, Jesse Borrego said this movie was going to live on forever," said Hanscam. "It will be watched by our grandchildren after we are long dead and gone. With this marker it will now keep everybody's mind connected to where it was, and I was honored by the fact that Gary and Annie said that if it wasn't up to me agreeing to this and putting the business out for two weeks with no money and no business, for us to do this movie…this movie wouldn't have gotten made."
Attorney Phil Studenberg, who also serves on the City Council and was one of the key donors for the marker, also shared his thoughts.
"This is an exciting thing to be involved in," said Studenberg. "It's a clean industry and it's good for the City of Klamath Falls and the County of Klamath. I think the more we can do of this, the more we should do of this. It's a great industry, and it brings all kinds of people here. It provides great diversity and it doesn't take up resources. I think it's a great way to go, and I want to encourage everybody to keep bringing more film here, this was a wonderful film."
After the marker was unveiled, online viewers were then treated to a Q&A with the film's director, Gary Lundgren, as well as producers of the film: Annie Lundgren, Ben Piper, Kim Piper, and Ryan Niemi.
Afterwards at the Ross Ragland Theater one block away from the marker's location, Oregon Film Executive Director Tim Williams chimed in with his thoughts via videoconferencing prior to a screening of the film.
"We started the film trail about three years ago with a mural on the lower walkway at PDX airport. Now there are more than 30 signs on the trail," said Williams. "The Klamath Falls one is very important because we're trying to create loops where people can go through different regions and experience the different towns and local businesses and restaurants and drive tourism. I think we're the first film trail in the United States. Klamath Falls is a major place for us in Southern region, because with the markers also in Ashland that will hopefully give us a loop down there for daytrips for film tourism, and I'm really grateful that Klamath Falls is part of this, I'm grateful to Klamath Film, the mayor, city council, downtown association, and everyone else. This really means a lot to us, it is really a big deal that we had their participation."
Following a screening of the film, several of the actors then joined the audience online and at the Ross Ragland Theater virtually for a cast reunion. Reynaldo Gallegos, who played Mario Bentley Jr.; Luis Rodriguez, who both acted in the film and served as one of its producers; director Gary Lundgren, and the iconic Jesse Borrego al joined for a very fun chat about their favorite memories of making the film.
"Just driving to Klamath falls was breathtaking, coming around out of the forest and to that giant blue lake was amazing," said Gallegos. "Everyone was very open-armed. I got to the hotel and right away everybody was so kind. The energy in the town itself was lovely. The minute I got to meet the cast and see these people Gary had pulled together, it felt like a big breath of fresh air. It was nice to slowdown and knowing being creative would be that much easier because of it."
"I would say Klamath Falls was the right place to make this movie. I know it's called Phoenix Oregon, but it was in Klamath that we found our allies, our locations, our support, investors. We found a film festival there and some lovely people who have built up the Klamath Film program there – it was the right place to make the film. You make a movie once and hope it lives on, people keep watching it, and it grows a new appreciation as the months and years begin to pass by. Hopefully this marker will help that a little bit."
"This is one of the reasons that I'm so proud of this film is that it's been involved in something that I call film activism – being able to use something that you've done not just to entertain but that it can also impact something in a good way," said Borrego of the film's recent OMPA Award. "Not only did it entertain right at the beginning of the shutdown, but it gave to the theaters by sharing the revenue. Even though the filmmakers didn't get rich, they definitely had an impact in helping out the art and theaters being impacted at that time. But then later on to be able to help Phoenix Oregon and do a little fundraising to help the community that was really beautiful.
"I think as a filmmaker you want to make meaningful work and work that entertains and moves people, and it takes a lot to make that happen," said Lundgren. "It took our cast and crew and so many of you in Klamath falls. Thanks to the Oregon Film office, shooting in Oregon with the tax rebates is a big deal. It allowed us to come in under budget. I just hope the film marker – and I know it already is doing this – it represents the film we made together. And I hope it lives on. You only make a film once, but you can watch it forever. I hope more eyeballs see the movie and more people are moved by it."
The "Phoenix, Oregon" historic marker and events are the latest effort by Klamath Film, which since 2012 has worked diligently to promote and support a filmmaking culture in the Klamath Basin while connecting the community to film. The organization among its varied programs coordinates an annual youth summer film camp, provides special film screenings throughout the year, offers professional film equipment available to its members to check-out for free, monthly membership meetings for networking and educational purposes, and the aforementioned Klamath Independent Film Festival. Klamath Film also serves as the official film liaison office of Klamath County – purposed with assisting film, television, and commercial productions interested in filming in the Klamath Basin.
For more information about the Oregon Film Trail visit www.historicoregonfilmtrail.com.