Animation, live action short films series presented by Klamath Film
MORE INFO:
WHAT: Academy Award Nominated Short Films
Continuing an annual tradition, the arrival of the 94th Academy Awards, better known as "The Oscars," on Sunday, March 27 brings with it peak Hollywood glitz and glamour celebrating the best films of the previous year. While blockbuster and indie darlings may get the spotlight, additional categories fly under the radar – short films.
Designated as 40-minutes in length or less, short films often go unseen by the movie-going public, unless they are acquired by streaming services like Netflix, Hulu and Amazon. Yet short films are just as extraordinary in their compelling storytelling and film structure as the feature-length movies drawing global audiences. There are three Academy Awards short film categories: animation, live-action, and documentary.
This Saturday, March 19 Klamath Film will once again present a showcase of the animated and live-action films nominated for the Academy Awards this year – 10 films in all – starting at 6 p.m. Admission is just $10, or $5 with an active Klamath Film membership (if you don't remember your membership discount code let us know and we will be happy to provide it).
Films nominated this year are truly a global affair encompassing film crews in Poland, Denmark, The Netherlands, the United Kingdom, Canada, Russia, Chile, Spain, Switzerland, Kyrgyzstan, and the United States. Films run the gamut of emotions, with the film package considered a R rating equivalent containing adult themes, violence, nudity, sexual content, and language. The program is not considered suitable for children under 17.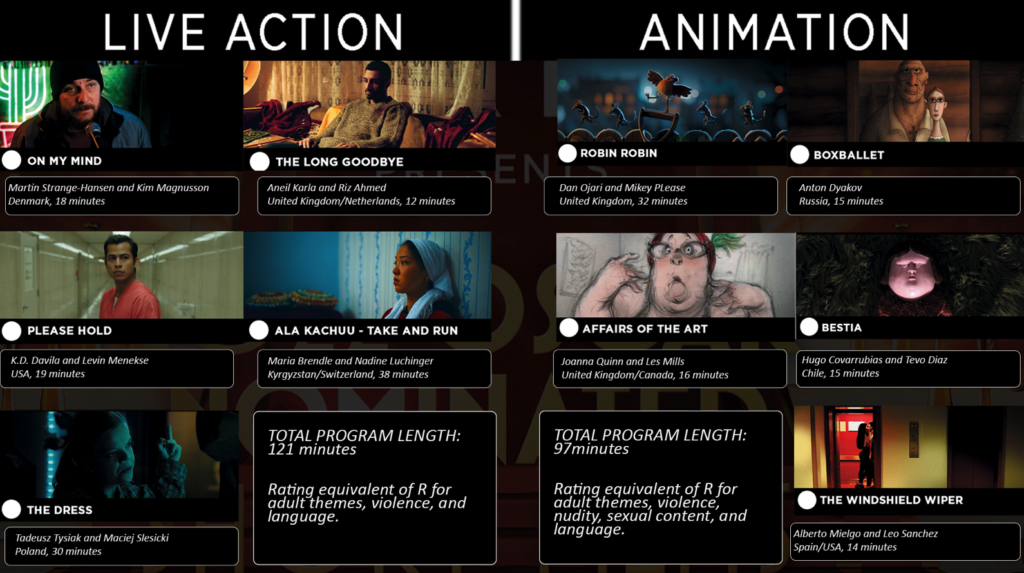 Klamath Film believes that film can move people to tears, laughs, and all the feels regardless of its length. It can inspire, anger, motivate and bring joy through incredible stories whether shown in two hours or two minutes. Short films rarely receive the theater distribution of feature-length films, so Klamath Film proudly presents the best of short films each year to showcase films worthy of your attention that may otherwise go unseen.
Please join us.