Made-in-Oregon films to be accepted Feb. 1 through June 1
Planning is once again in full swing, and films are now being accepted for submission, for the 2023 Klamath Independent Film Festival (KIFF) – scheduled for Sept. 22-24, 2023 at The Ross Ragland Theater and available online via Eventive. This year marks the 11th anniversary of the festival, once again featuring exclusively Made-in-Oregon films and/or films by Oregon resident filmmakers.
Films that were completed no later than Jan. 1, 2022 and were predominantly shot in Oregon or created by Oregon filmmakers are now being accepted via FilmFreeway. There is a $20 fee for submitting a film, submission fee waivers are available — please email info@klamathfilm.org for more details. Additionally, film submissions from Modoc and Siskiyou counties in Northern California will also be accepted. 
For 2023 Oregon Film is also offering fee waivers for all student-made films! KIFF accepts student films from kindergarten through college for our northern and southern student categories. Contact info@klamathfilm.org for details.
Films will be accepted between Wednesday, Feb. 1 and Thursday,  June 1. Once the submission window closes multiple tiers of judges will review every submission, with selections for the 11th annual Klamath Independent Film Festival announced in mid-July.
SUBMIT YOUR FILM HERE: https://filmfreeway.com/klamathfilm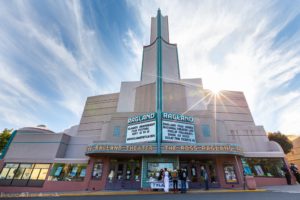 The festival will take place across three days held at The Ross Ragland Theater in Klamath Falls, Ore. and simultaneously livestreamed and presented as video-on-demand via Eventive. 
KIFF, the premier Oregon-centric film festival, welcomes Made-in-Oregon films, as well as films from bordering Northern California counties, in multiple categories:
-Northern Oregon Feature Films (40-minutes or longer)
-Northern Oregon Short Films (under 40 minutes)
-Northern Oregon K-College Student Films (maximum 15 minutes in length)
-Southern Oregon/Northern California Feature Films (40-minutes or longer)
-Southern Oregon/Northern California Short Films (under 40 minutes)
-Southern Oregon K-College Student Films (max 15 minutes in length)
Cash prizes totaling $5,000 will be distributed on the final evening of the festival, as well as the return of KIFF's popular wooden carved unique art pieces as awards specific to each film. The Southern Cascade Woodcrafters Guild will create one-of-a-kind trophies for each category.
For full details of the festival and to submit a film, click here.
If you have any questions or comments
contact us
.