Custom awards created by Southern Cascade Woodcrafters Guild featured at KIFF
Klamath Independent Film Festival took a different shape in 2020, in part due to COVID-19 restrictions and with new opportunities to branch out to larger audiences. With a maximum of only 100 people allowed inside due to crowd restrictions during the COVID-19 pandemic, Klamath Film for the first time offered the annual film festival in a hybrid model — continuing in-person events as well as offering online passes to watch films in an on-demand format and with livestreams of on-stage activities.
Held Sept. 18-20 at The Ross Ragland Theater in Klamath Falls, Ore., the festival's lineup included 37 films by Oregon filmmakers split amongst feature-length films, shorts, and K-12 student films. Once again presented as the premier Oregon-centric film festival. this year added to the celebration was an added Made-in-Oregon touch — with custom hand carved wooden awards on local native Oregon woods created for each category-winning film by the Southern Cascade Woodcrafters Guild. 
With so many filmmakers unable to travel to Klamath Falls due to the pandemic and forest fires, many were granted an opportunity to still interact with audiences through videoconferencing technology, with GoToMeeting used to project filmmakers onto the big screen and simultaneously live-streamed to online festival pass holders. Microphones in the seats allowed audience members to ask questions, as well as a chatroom made available for livestream followers to interact in real-time.
The judging process for selection of films included two separate judge panels, as well as a third awards panel comprised of veteran Hollywood actors and a major Hollywood producer to determine Jury 2nd Runner-Up, Jury Runner-Up, and the Jury Grand Prize in each category:
-K-12 Student Films
-Northern Shorts
-Southern Shorts
-Northern Feature Films
-Southern Feature Films
Awards took a slightly different tact due to a last-minute withdrawal of one feature-length film, "Frank and Zed." Originally slated to make its world premiere at the Portland International Film Festival in March, the film had to be pulled from viewing at KIFF. However, the Award Jury Panel had selected the film as Best Northern Feature. Ultimately, Klamath Film chose to still honor the film, and instead lumped other award contenders into a "Best Feature" category.
While "Frank and Zed" was not shown, a world-premiere trailer of the film was presented. Additionally, several other films at KIFF2020 made their world premieres: "1 Dead Dog," "The Spooky Girls: Before the Fall Preludes," "The Puzzle," "Friend," "The First Date," and "Other Side of the Hill."
Here are the award winners for the 2020 Klamath Independent Film Festival:
BEST FEATURE:
JURY GRAND PRIZE – "Illegal" by Nick Alexander
JURY RUNNER-UP (2nd place) – "At the Video Store"
JURY 2nd RUNNER-UP (3rd place) – "This is Tim: A Musical Life"
BEST NORTHERN FEATURE:
JURY GRAND PRIZE – "Frank and Zed" by Jesse Blanchard
BEST SOUTHERN SHORT:
JURY GRAND PRIZE "Way to Go!" by Kathy Roselli
JURY RUNNER-UP (2nd place) – "Isolated"
JURY 2nd RUNNER-UP (3rd place) – "Other Side of the Hill"
BEST NORTHERN SHORT:
JURY GRAND PRIZE "The Spooky Girls: Before the Fall Preludes" by Jason Thibodeaux
JURY RUNNER-UP (2nd place) – "The Legend of Grayson Crockett"
JURY 2nd RUNNER-UP (3rd place) – "32 Goldfish"
BEST K-12 SHORT:
JURY GRAND PRIZE "The Sandcastle" by Athena Ousley 
JURY RUNNER-UP (2nd place) – "The In-between"
JURY 2nd RUNNER-UP (3rd place) – "Racing Thoughts"
KLAMATH FILM ONLINE FILM FELLOWSHIP SELECTION:
JURY GRAND CO-PRIZE "Friend" by Nolan Blofsky
JURY GRANT CO-PRIZE "The First Date" by Nick Hemmerling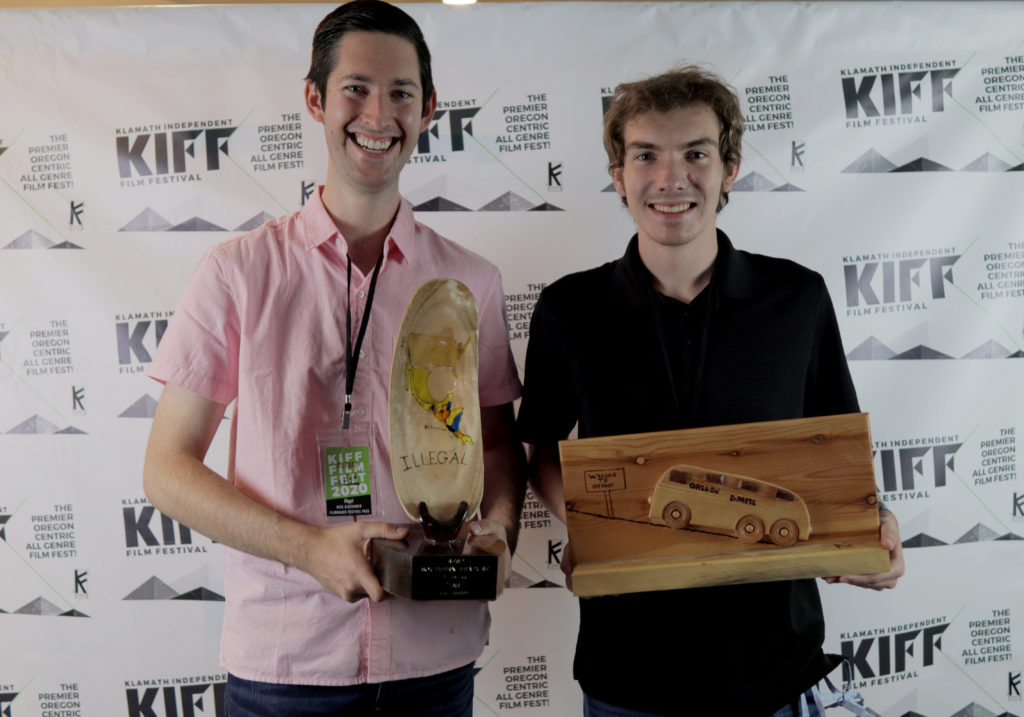 ---