In a year unlike any other, Klamath Film found a means to present its eighth annual Klamath Independent Film Festival (KIFF) Sept. 18-20 in a hybrid model, both in-person at the Ross Ragland Theater and online with virtual options rarely provided by film festivals.
The event included several world premieres and welcomed filmmakers from across Oregon to the only film festival that exclusively showcases Made-in-Oregon films, all accepted entries either filmed in Oregon or created by Oregon filmmakers. Due to the difficulties in hosting live audiences during the global COVID-19 pandemic, KIFF gained further notoriety as the only film festival in the United States this fall capable of hosting a sit-down in-person festival – all others either canceling, exclusively offering films on online, or resorting to temporary drive-ins to present films.
The festival culminated a process that began in February compiling films made within the past calendar year. A rigorous multi-tiered judging process whittled the initial submissions down to 36 films across feature films (40-minutes or longer), shorts and K-12 student films. An additional two films were added to the festival produced by students in a weeklong online film camp presented by Klamath Film – the Klamath Falls-based nonprofit that coordinates the annual film festival among other ventures aimed at promoting and supporting filmmaking in Southern Oregon. One film selection, "Frank and Zed," had to be removed from the festival in the lead-up to KIFF due to ongoing distribution negotiations with the filmmaker, who vowed to present the film in a special screening in Klamath Falls as soon as possible.
Virtual fest
The annual event normally is held at both the Ross Ragland Theater and Pelican Cinemas, but with state-mandated crowd restrictions limiting maximum capacity to 100 people it was determined to hold the entire festival at the Ross Ragland. With most available seats reserved for sponsors and filmmakers, for the first time KIFF was simultaneously presented online through a virtual festival platform called Eventive. The Eventive festival format allowed online festival pass holders to watch all selected films for this year's festival, watch livestreams of activities inside the Ross Ragland Theater, and view exclusive pre-recorded Q&As with each filmmaker.
The Klamath Independent Film Festival began as a single-day showcase of projects by local filmmakers, but has grown to become a nationally recognized multi-day affair welcoming the best in independent filmmaking from across Oregon. While touted as the premier Oregon-centric film fest, it also accepts submissions from Modoc and Siskiyou Counties due to their close proximity.
With most film festival in 2020 forced to cancel, many of the selected films that had initially been intended to showcase elsewhere became world premieres for KIFF audiences. Audiences in-person and online experienced for the first time anywhere world-premiere screenings of the feature length dark comedy "1 Dead Dog," shot in Black Butte; the predominantly-Lakeview filmed documentary "Other Side of the Hill," an all-puppet short film by employees of LAIKA Studios titled "The Spooky Girls: Before the Fall Preludes," and two student films produced during Klamath Film's online camp – Nolan Blofsky's "Friend" and Nick Hemmerling's "The First Date." Additionally, the filmmaker behind "Frank and Zed" provided a world premiere trailer for his film.
Through an inventive technological setup incorporated into the Ross Ragland's sound and video system, question-and-answer sessions were held with filmmakers both in-person and online, with videoconferencing software utilized to welcome filmmakers not in attendance on the big screen in real-time to interact with audience members following each film screening.
Custom awards
To expand on KIFF's notoriety as the only Oregon-centric film festival, local artisans from the Southern Cascade Woodcrafters Guild were recruited this year to add to KIFF's unusual presentation. While most film fests stick to a uniform glass or brass plaque award to recognize jury selections of the best films, KIFF instead had members in the Woodcrafters Guild produce unique art-piece trophies specific to the winning film modeled after a character or film's theme for each of the five categories presented during Sunday's award ceremony.
Built exclusively using native Oregon woods and adorned with plaques recognizing the winning film, category and filmmaker, unveiling of each award drew big crowd responses as each were displayed on the big screen. Some filmmakers who could not attend in-person were sent their awards in advance and filmed thank you videos played for the audience.
The awards judges included two veteran Hollywood actors and a local connection with strong Hollywood ties – Bergen Swanson. A Klamath Falls native who began his career repairing bicycles at his dad's shop, The Yankee Peddler, Swanson has been a line producer or executive producer of over 20 major motion pictures, garnering numerous Academy Award nominations. His film credits include "Wild," "Precious," "Puccini for Beginners," "Shame," "Three Billboard Outside Ebbing, Missouri," "Widows," and most recently the Tom Hanks-starring film "A Beautiful Day in the Neighborhood." Currently Swanson is working with director Zack Snyder on a zombie apocalypse film scheduled for release in 2021.
Supporting the arts
For the festivities the Ross Ragland Theater's lobby included a nod to film's past, present work, and support of filmmakers in need into the future. A display of vintage cameras going back to before World War II was presented, including a working 1969 Super 8mm projector running classic Disney cartoons, and several puppets used in the short film "The Spooky Girls." A cable drive was also coordinated, collecting donations of adapters, wires and cables for filmmakers selected in this year's KIFF who lost equipment in the recent Oregon fires.
The annual festival not only provides entertainment and a showcase for many Oregon filmmakers, it has a positive economic impact as well in welcoming tourists to Klamath County for the weekend event. Film festivals commonly serve as a networking opportunity for filmmakers to connect for future collaborations; the 2018 film "Phoenix, Oregon" shot in Klamath Falls was a direct result of local producers meeting filmmakers from Joma Films at KIFF during a screening of their previous film, "Black Road." A single film production can result in extensive hotel stays for film crews, the hire of local cast and crew and regional services, netting huge economic dividends.
Several Klamath-based filmmakers were selected for the 2020 Klamath Independent Film Festival. Kamrin Nielsen's short documentary "Solid Ground" highlighting a local equine therapy facility was chosen, as well as a student film by Klamath Union High School student Shelby Huggins, "Racing Thoughts," and a stop-motion short film "The Puzzle" by Klamath Falls resident Lori Nussbaum were also selected.
The film festival was supported through numerous sponsors and grants including the Oregon Arts Commissions, Miller Foundation, Oregon Cultural Trust, and Klamath County Tourism.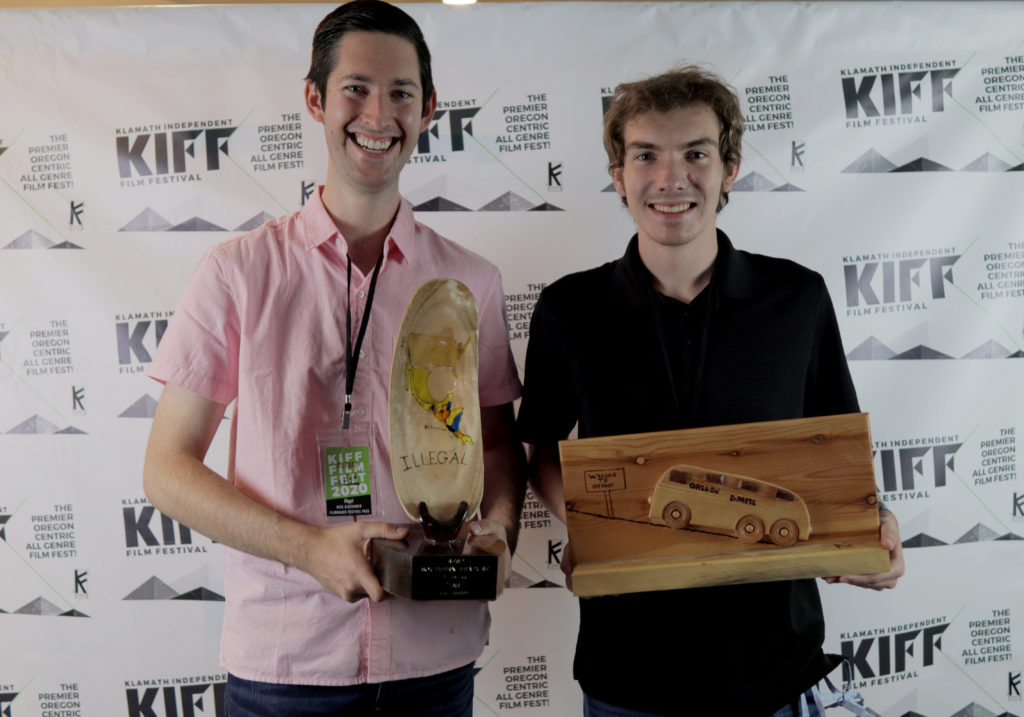 Award winners
On Sunday evening with many filmmakers in attendance, an awards ceremony recognized the best films in this year's KIFF based on the awards jury selections. Film categories were divided geographically, providing a first, second and third place award for films listed under K-12 Student Films, Best Northern Shorts, Best Southern Shorts, and Best Feature Film.
Normally two feature film categories. Split between northern and southern Oregon are awarded, but with the jury northern selection "Frank and Zed" being pulled from the festival all remaining feature film selections were lumped into a single feature-length category.
"The Sandcastle" by six-year old Athena Ousley of Ashland was selected as the Best K-12 Student film, with second place honors to "The Inbetween" by Thomas and Jack Isenhart of Broadbent. Third place was awarded to Huggins for "Racing Thoughts."
"Way to Go!," a lighthearted documentary about a composting toilet on Mt. Shasta garnered Best Southern Shorts honor to Kathy Roselli of Ashland, earning a giant wooden outhouse trophy. "Isolated" by Martin Hilligoss and "Other Side of the Hill" by James Parker and Juliet Grable earned second and third place honors respectively.
Northern Shorts top-honors were given to Jason Thibodeaux and Gabriel Temme of LAIKA Studios for their puppet film "The Spooky Girls: Before the Fall Preludes." Second place was given to Adam Bagger's "The Legend of Grayson Crockett" and third place was granted to Erik Fox's "32 Goldfish."
Best Feature Film honors went to the documentary "Illegal" – a humanizing look at the ongoing illegal immigration issue told through the story of Laz Ayala, a now naturalized U.S. Citizen who escaped a civil war in El Salvador in the 1980s and settled in the Ashland area, now a successful entrepreneur who does extensive charity work in the region while advocating for immigration reform. The filmmakers behind the documentary, Nick Alexander and Tanner Northrop – both recent transplants to Klamath Falls – immediately took to social media to showcase their unique awards for their followers.
"It's hard to believe we just won," said an exasperated Alexander to his online followers. "I think I literally jumped out of my seat. What we received tonight is an indication of what 'Illegal' is all about, an example of why this movie is so important."
"This is Tim: A Musical life," a documentary about a renowned Oregon musician who died of cancer garnered third place honors; a documentary celebrating mom-and-pop video rental stores "At the Video Store" took runner-up honors.
Last chance to watch
While the in-person activities have completed, online festival passes to watch every selection of KIFF remain open through Friday, Sept. 25. Online festival passes are $15 plus fees, available at https://klamathfilmfestival2020.eventive.org/welcome.
Film submissions for the 20201 Klamath Independent Film Festival will open in February for the annual September event. For more information visit www.klamathfilm.org.